The Baltic Fleet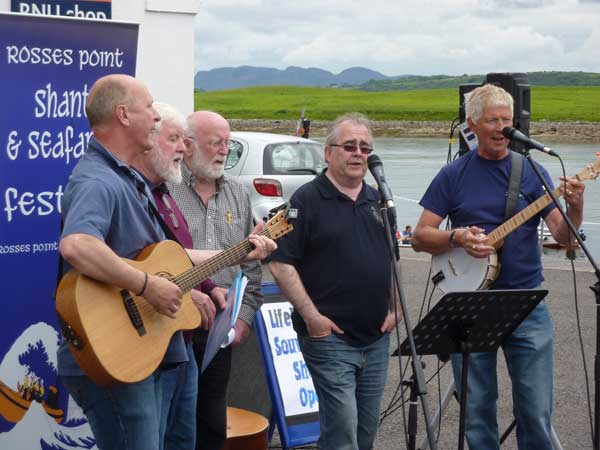 "The Baltic Fleet " is Rosses Point Shanty's "flag of convenience" affording soloists and members of other groups a chance to perform together when circumstances allow. Named after the Baltic Fleet pub in Liverpool, ours has performed in Las Palmas, Liverpool and of course in Ireland. Come and see who appears in the line up.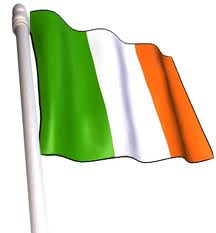 The Buoys of Ballisodare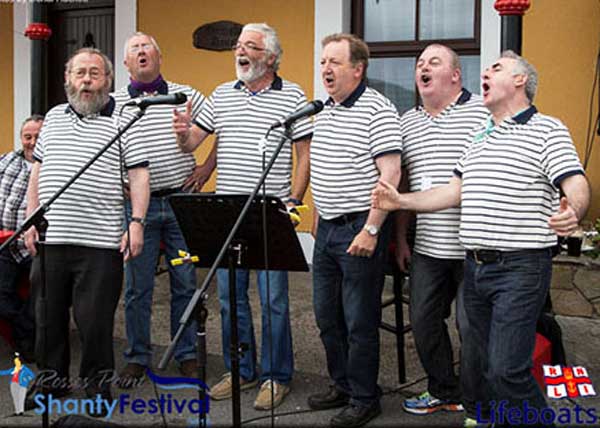 The Buoys of Ballisodare are one of our newest local groups and are going from strength to strength. They bring tremendous energy and harmonies to their performances and were a great hit last year with locals and visitors alike.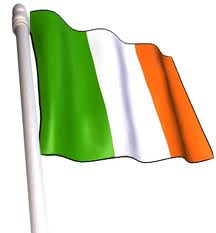 The Drunken Sailor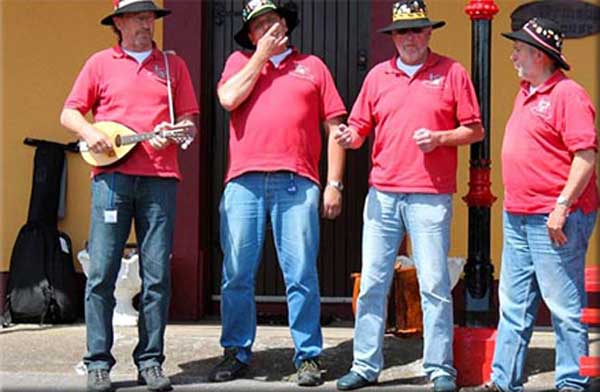 Making a very welcome return visit to Rosses Point, the Drunken Sailor Shantymen – shanty songs from yesteryear. Our Drunken Sailor Shantymen came together to sing genuine shanty songs in traditional fashion, exactly as our sailor heroes sang. In every performance we convey our audience back to the good bad old times years ago upon the high seas. Each shanty song has its own tale to tell in rhythms of life on the ocean waves.
www.drunken-sailor.de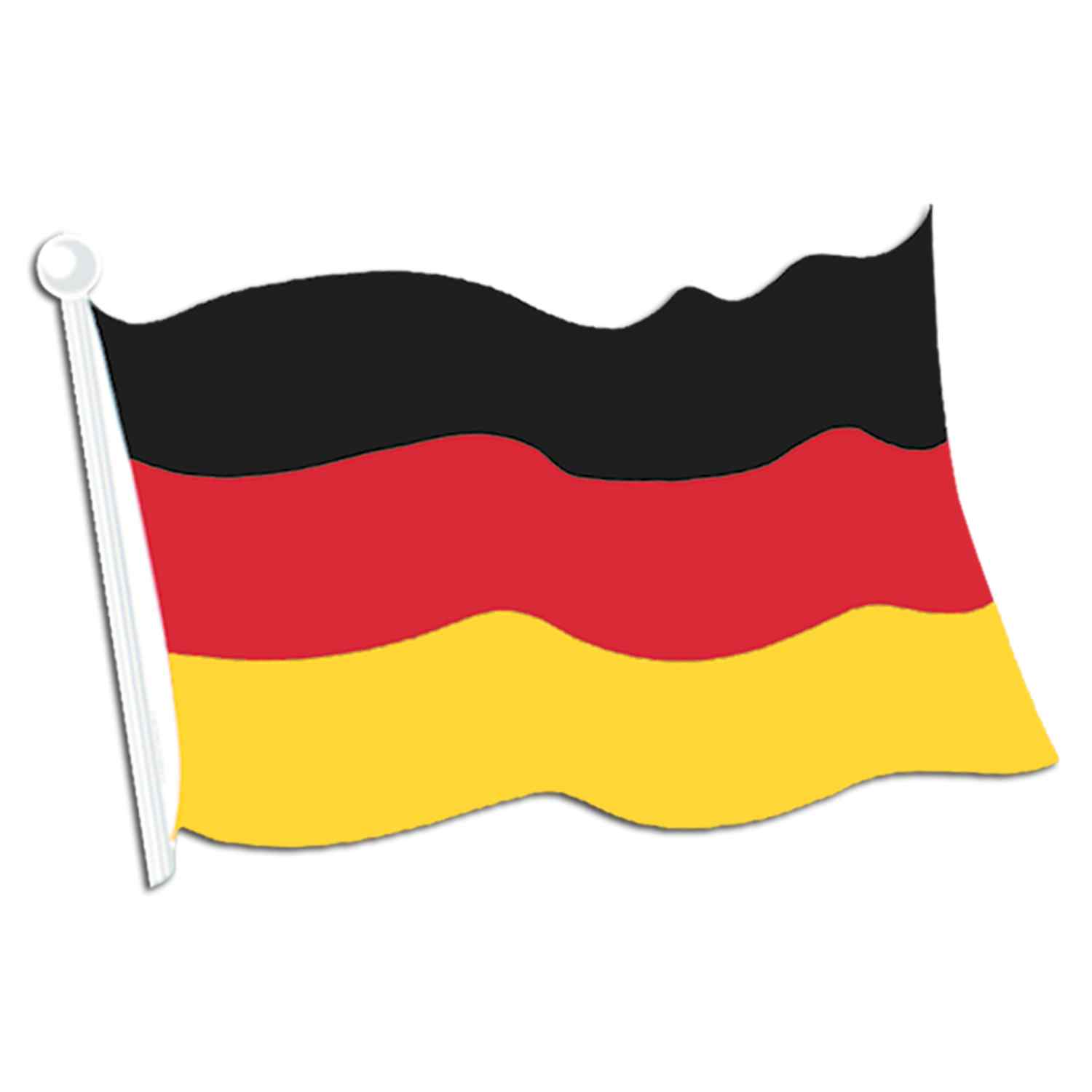 Francois Milliard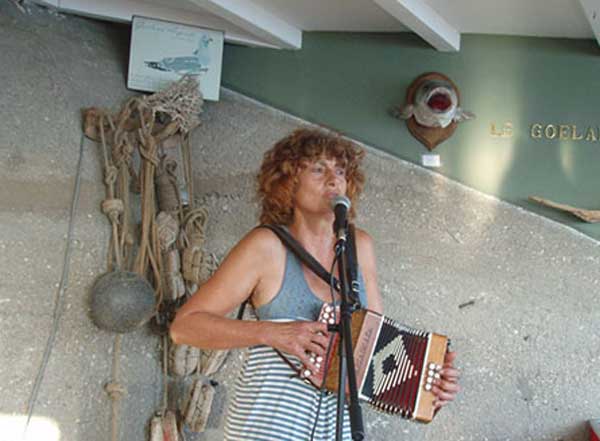 Francoise shares her passion for the sea through her songs. She performs a range of shanties and sea songs mixing the traditional with the contemporary. Francoise is part of the group Femmes de Marins and also performs solo at festivals throughout Europe.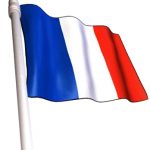 Friends of Folk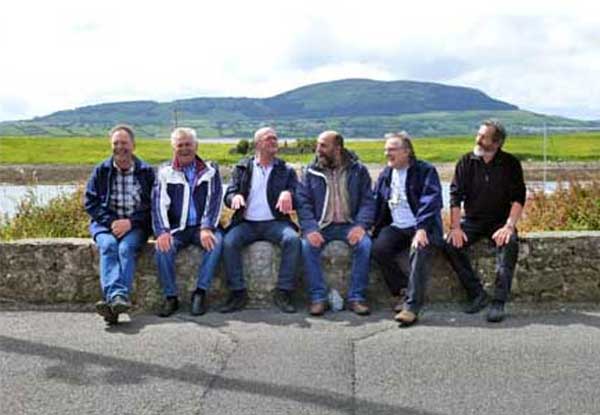 We look forward to greeting again our friends from the Netherlands. This versatile group who hail from Terneuzen bring an infectious enthusiasm to all of their performances. They have honoured us by composing a number of songs celebrating Rosses Point, the Festival and the beautiful County of Sligo.
www.friendsoffolk.eu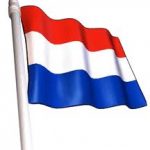 Ian Bordley and Ray Coen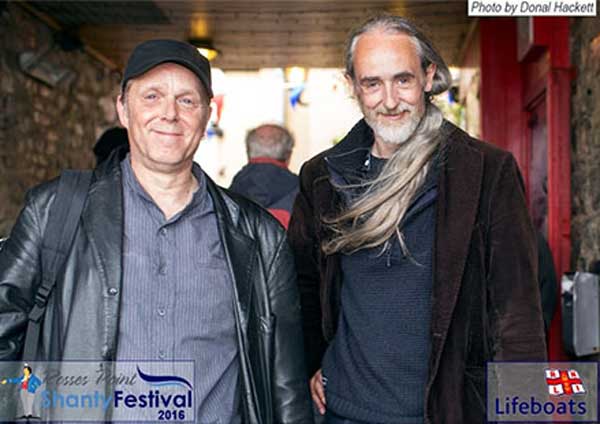 Great to welcome back our great friends from "across the Bay" . If you have never witnessed this duo in action you are the poorer of it. Tremendous musicians and songwriters Ian and Ray captivate audiences with their range of music and song.Expect the unexpected when it comes to sea songs and shanties.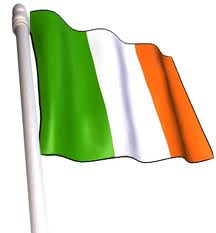 Jim Corr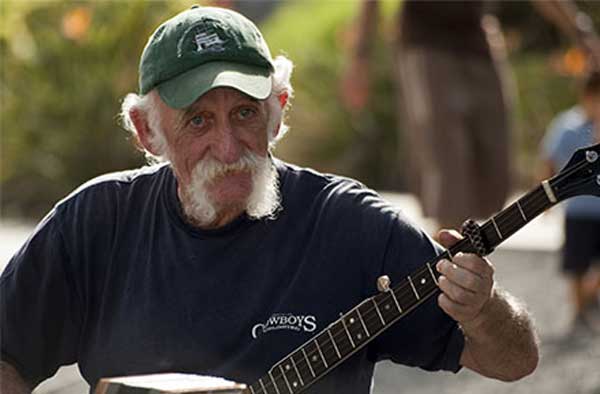 A singer-songwriter who has lived life from rodeo cowboy to tall ship sailor, Jim brings a unique authenticity to his performances. Singing many of his own compositions he is one of the few who has actually done the work described in the shanties (and a bit more besides). Jim has recently issued an album on itunes "Travelling Man", generously donating all proceeds to the RNLI.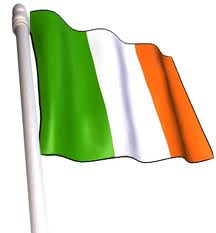 The Last Watch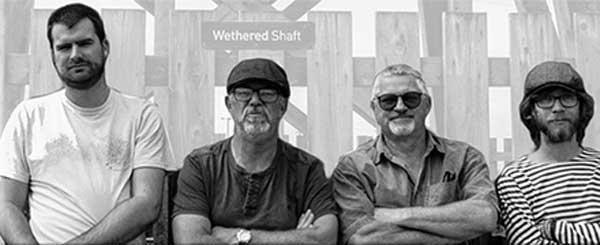 This shanty and folk singing group of lads all hail from the Cornish side of the beautiful Tamar Valley in SW England, an area rich in history and folklore. Having sung together for about 4 years they have achieved a style all of their own, lots of harmonies have given the traditional shanty a different feel. This does not distract from the raucous foot stamping fun of a good loud shanty. Together with a few folk songs their performance is varied and interesting. They consist of Phil and Mike (father and son) and Colin and Richard (father and son in law).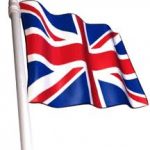 Maria McLoughlin

Maria McLoughlin ,is one of our finest local box players. Her playing of the "The Three Sea captains " or "Out on the Ocean" has added to many a situation. She will be leading the fun at Austies Festival Cake Dance.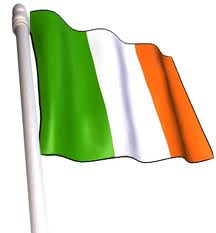 The Mutineers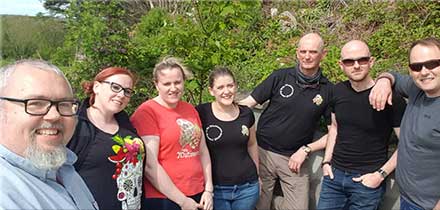 Matching stunning vocals with novel arrangements The Mutineers bring a contemporary twist to all their material. The Mutineers are Robert, Barbera and Sarah Cullen, Sarah Jane Lewis, John Ryan, Helena Boland, Ronan Hunt and Colm O'Flaherty.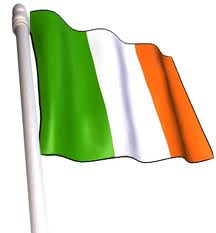 O'Really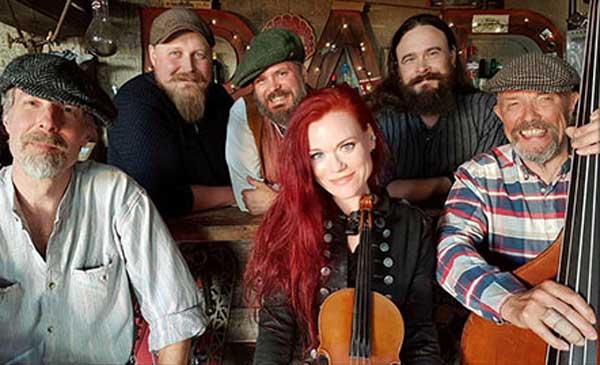 O'Really – Shipped from the Åland Islands, Finland. The group O'Really was formed in March 2017 on the Åland Islands in Finland and plays colourful shanties, sea songs and folk music with an energetic presence. The groups musical goal is to find and arrange songs from regions where the closeness to the sea has affected man and the musical culture. O'Really builds up their vibrant performances with vocals, mandolin, banjo, double bass, guitar, fiddle, flutes, accordion, harmonica and percussion.
They have six members in the group: Henrik Forsell voice, double-bass, banjo. Simon Påvals voice, banjo, accordion, guitar, bodhran. Niclas Stjärnfelt voice, bodhran, harmonica. Ella Grüssner Cromwell-Morgan fiddle, flutes, voice. Kristoffer Gottberg guitar, accordion, double-bass, voice. Robert Zetterquist mandolin, guitar, banjo, voice.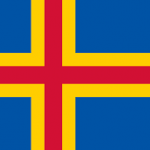 da ShantY Yellmen

The only male group singing shanties and sea songs in Shetland. 'The Shanty Yellmen is a group of men residing on the Islands of Yell and Unst in Shetland, formed originally to support Sail Yell celebrations in 2011, when the "Tall Ships Races" visited the islands. Since then, they have performed throughout Shetland and also at the International Shanty Festival in Rotterdam. In 2014 they performed at Rosses Point Sea Shanty Festival, Sligo, Ireland. Both 2016 and 2017 we sang at the Portsoy Classic Boat Festival .
http://www.shantyyellmen.com/wp/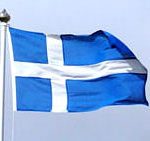 Sligo Concert Band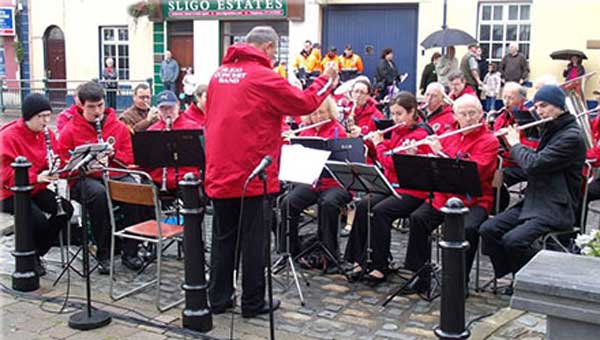 Sligo Concert Band was founded in 1990 and has been an integral part of the rich musical tradition found in Sligo community. Their repertoire includes pieces of varied musical genre including classical favourites, movie theme tunes, jazz and modern pop along with traditional marches and church pieces. The Band performs regularly throughout he region. Membership is drawn from far and near throughout Sligo, Leitrim, Fermanagh, Donegal and Mayo and includes all ages. Don Swain who took up the baton in 2001 is the current director and has contributed significantly to the band's development.
http://www.sligoconcertband.com/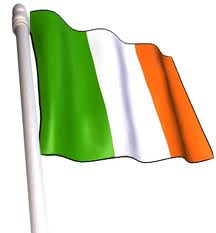 Trim Rig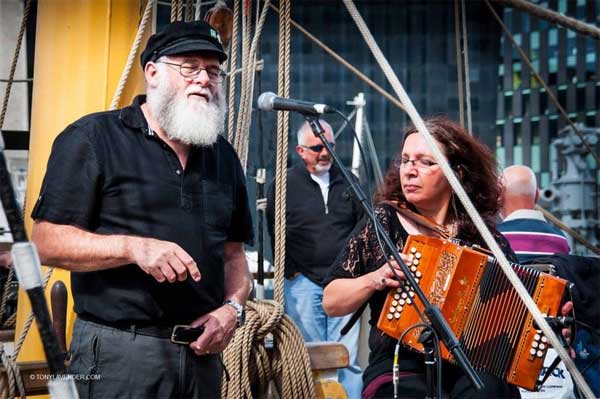 We are delighted to welcome for the first time Trim Rig & a Doxy. Derek & Julia Batters met at the start of the millennium. Both brought a love of folk tradition to the relationship and now perform together as a shanty duo. Julia (melodeon) originated from a musical family in London. She used to sleep in her carrycot on top of the family piano! Derek is an accomplished singer from Lancashire. He first found his voice in his teens singing lead parts in school operatic productions before becoming involved with folk music. But don't let their history put you off, the growing interest in this type of music has produced many new performers, but few of the quality of this pair.
The saucy nature of many shanties is enhanced by the interplay between the couple giving a performance that is both warm and humorous as well as musical. For those who love traditional music delivered with strength, clarity and simplicity this couple will never fail to delight. The couple have put trojan work into the revival of the Liverpool Shanty Festival.
http://www.trimrigdoxy.com/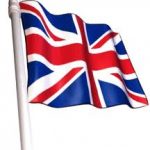 Yesterday's Men with Gerry Ffrench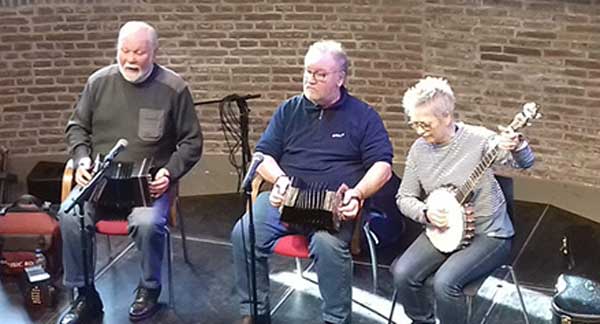 Yesterday's Men are two of the original line up of shanty superstars "Stormalong John", who were veterans of numerous festivals both in the UK and Europe in the 80's and 90's. During that time the band enjoyed a partnership with the legendary Stan Hugill who was the "Last Working Shantyman", maritime historian and guardian of the tradition. They also released two albums with their fellow Merseysider. Gerry Ffrench is a relative newcomer to the Shanty world, a singer songwriter with Irish roots, her songs have a strong nautical theme. Her partnership with Harry and Arthur has developed gradually over the past two years, beginning with them occasionally joining her on stage to add some concertina and harmonies. Eventually she began to join them onstage to add harmony, banjo and guitar to their songs. The partnership is now fully fledged with the three having in recent months, worked on and recorded an album together, comprising songs from Harry and Arthur's repertoire as well as some of Gerry's own.
http://www.shanty.org.uk/member/yesterdays-men.
https://www.facebook.com/Gerry-ffrench-Folk-Singer-1473984246242373/.